4 star campsite with swimming pool in Normandy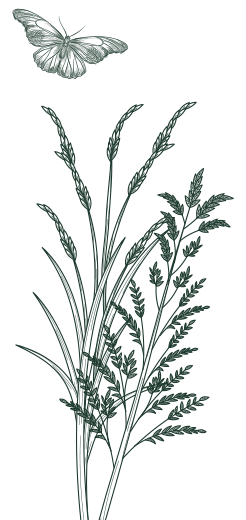 During your vacations in Normandy
Enjoy a water park with a heated indoor pool and slide
To spend aquatic vacations with your family, the Escapade campsite located in the heart of Calvados in Lower Normandy offers you a swimming pool accessible from April to September from 10:30 am to 7 pm in low season and from 10 am to 7:30 pm in July and August.
To keep the space comfortable all year round, the pool water can be heated up to 30 degrees. Its telescopic cover allows you to transform it into a real covered and heated pool.
The large pool of 20m by 9m allows for swimming and games. Especially for children with a depth of 1.10m on the entrance side and 1.60m on the other end.
The swimming pool is located right next to the sports field and allows you to relax in a pool after the effort. In summer, the paddling pool of 4mx4m and 60 cm deep, also heated, is dedicated to children. An ideal place for the youngest ones who can also enjoy water activities while playing their favorite games.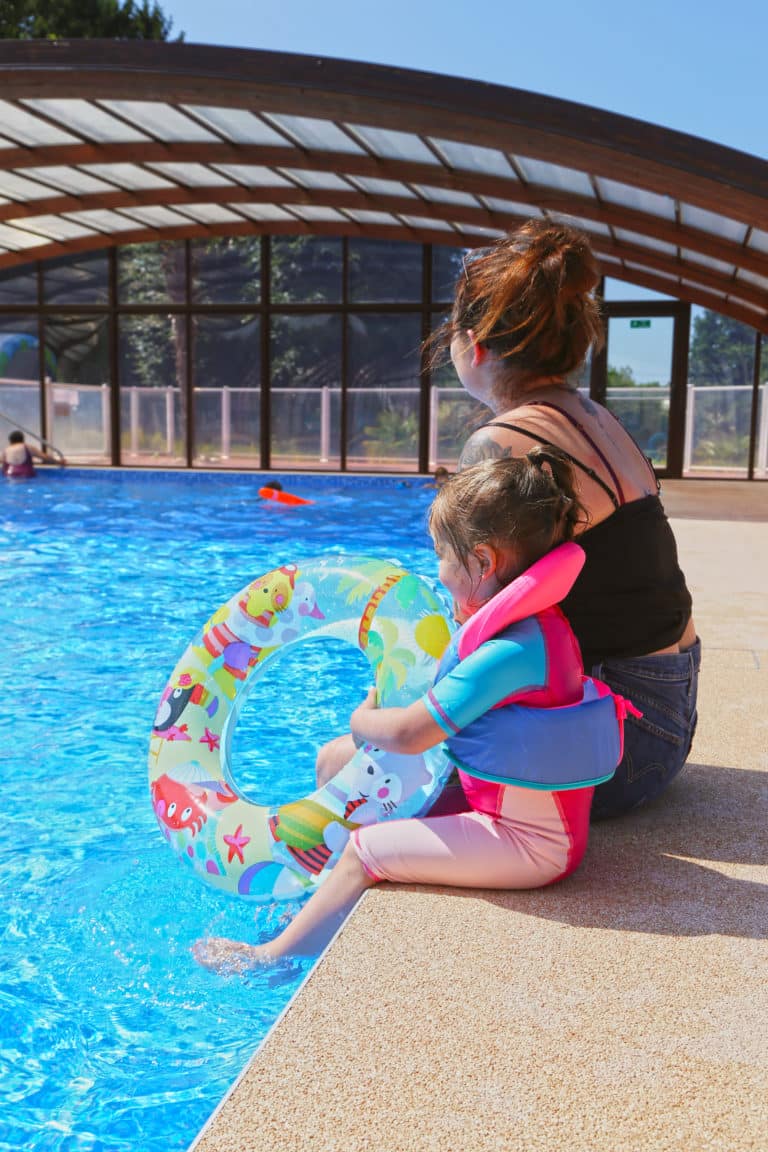 A heated pool for the whole family at the campground
To help you cool off, our campground has set up facilities suitable for everyone. The outdoor paddling pool is perfect for playing with your baby, the large bath is also great for having fun with friends and family or for swimming a few laps to keep in shape. Our campsite provides balls to allow you to play water games with balls in the pool.
If you're short on accessories to enjoy the heated pool, don't panic. We sell swimsuits, goggles and armbands for the little ones so that everyone can enjoy swimming in Basse-Normandie. For a relaxing moment by the pool during their stay, deckchairs and armchairs are available for adults in the indoor and outdoor areas of the covered and heated pool.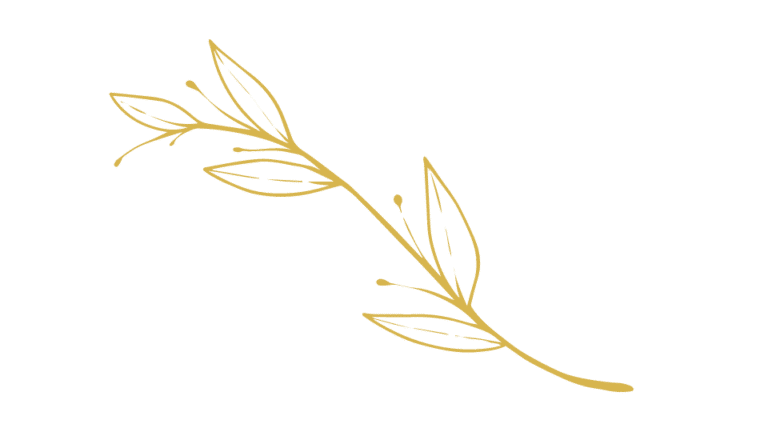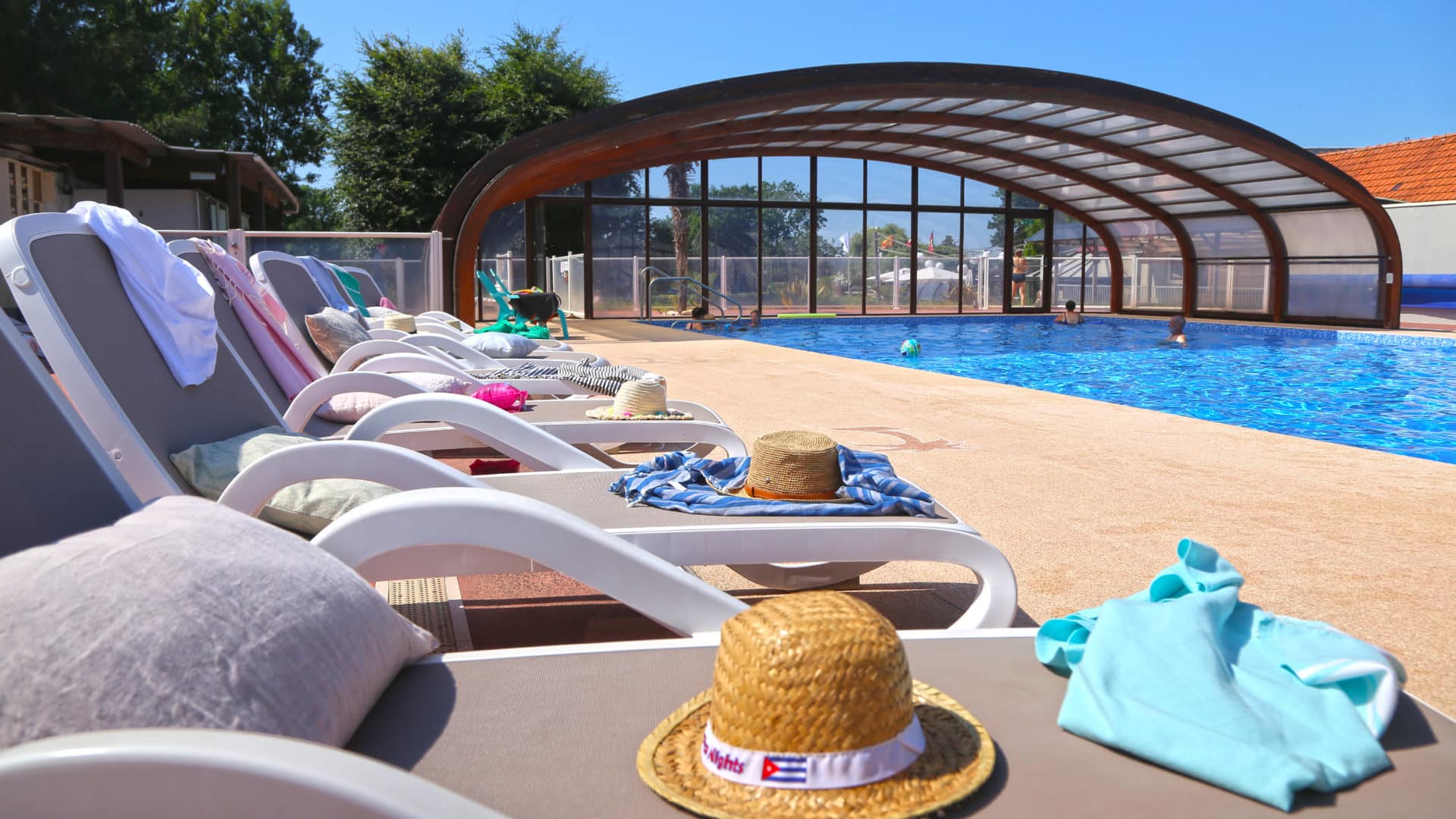 The aquatic park of the campsite l'escapade in Normandy
In addition to the heated swimming pool and the paddling pool, you can enjoy a superb 18m long water slide during the whole season.
Live your vacations at your own pace in the swimming pool of your 4 star campsite which offers you a beach-like setting with aquatic animations in July and August to liven up your children's vacations.
Its aqua brake allows a smooth arrival out of the pool to preserve the tranquility of swimming while allowing children to spice up their vacation.
Slides and splashes are on the program on the two tracks available in our campground. Great laughs and games for all ages in the heart of Calvados under the sun of Lower Normandy.
Practical information :
Children under 10 years old must be accompanied by an adult.
grand bassin de 20m par 9m
profondeur de 1,10m à 1.60m
pataugeoire de 4mx4m et 60 cm de profondeur